INNOVATIVE SPACE-SAVING DESIGN SETS UP IN LESS THAN 10 SECONDS!
Do you want a power rack that is Space Saving, Versatile, and Customizable? Introducing the innovative Force USA MyRack Folding Power Rack System.
Why settle for an off-the-shelf power rack when you can have one that folds to save space when not in use and is also custom-built just for you?
THE FIRST FULL FOLDING POWER RACK OF ITS KIND
Unlike competing folding half racks, our patented full rack design doesn't need to mount to a wall, offers more interior working space, and holds twice the weight.
The Folding MyRack can be used to perform squats, bench presses, overhead presses, deadlifts, and more.
Why Choose the Folding MyRack?
Convenience – Innovative fold-away design for tight spaces.
Speed – Lightning-fast set-up time with pop-pin technology.
Stability – Industrial-strength construction to maximize safety.
Durability– Backed by a lifetime structural warranty.
Capacity – The base unit is rated to hold up to 2,000 lbs!
Customizable – Choose from 10 separate attachments.
Versatility – Perform over 50 different exercise variations.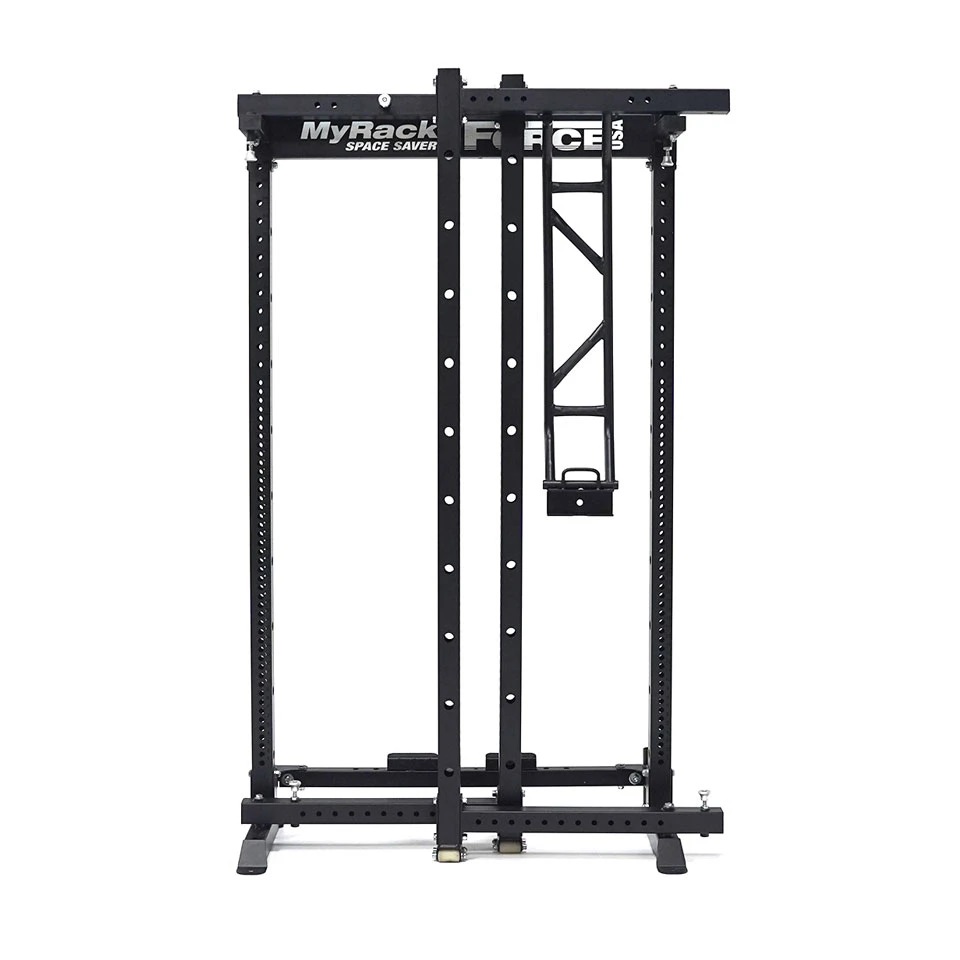 Whether you train weightlifting, powerlifting, Crossfit®, Olympic lifting, callisthenics, gymnastics or just want to build muscle or burn fat, the Folding MyRack is 100% customizable so you can take your workout to the next level.
Start with the bulletproof Folding MyRack base unit forged with precision welded, laser cut 12 gauge steel.
The Folding MyRack features westside spacing with 54 different numbered adjustment points to perfectly position any size user for bench press, squats and more. The lower bench level heights have 1-inch spacing while the squat height levels have 2-inch spacing.
SEE THE FOLDING MYRACK IN ACTION!
Next customize your Folding MyRack with 10 different optional attachments including dip handles, landmine rows, J-hooks, safeties, and even a monolift attachment to unlock 100's of different configurations!
The Folding MyRack has been engineered and tested to meet our rigorous safety standards and weight ratings. So, you're guaranteed the safest, highest quality folding power rack available.
And, we stand behind every Folding MyRack Power Rack we sell with our ironclad lifetime structural warranty. When buying Force USA, you're buying the best folding power rack system money can buy!
BASE RACK SPECIFICATIONS:
Laser-cut steel construction
Assembled Dimensions: 105cm (D) x 124cm (W) x 219cm (H)
Folded Dimensions: 52cm (D) x 133cm (W) x 214cm (H)
Extra-sturdy Steel Construction
12 GA Steel Uprights
Westside spacing
54 adjustment points front and back
5/8″ accessory holes
2.4″ x 2.4″ uprights
Product Weight: 100kg